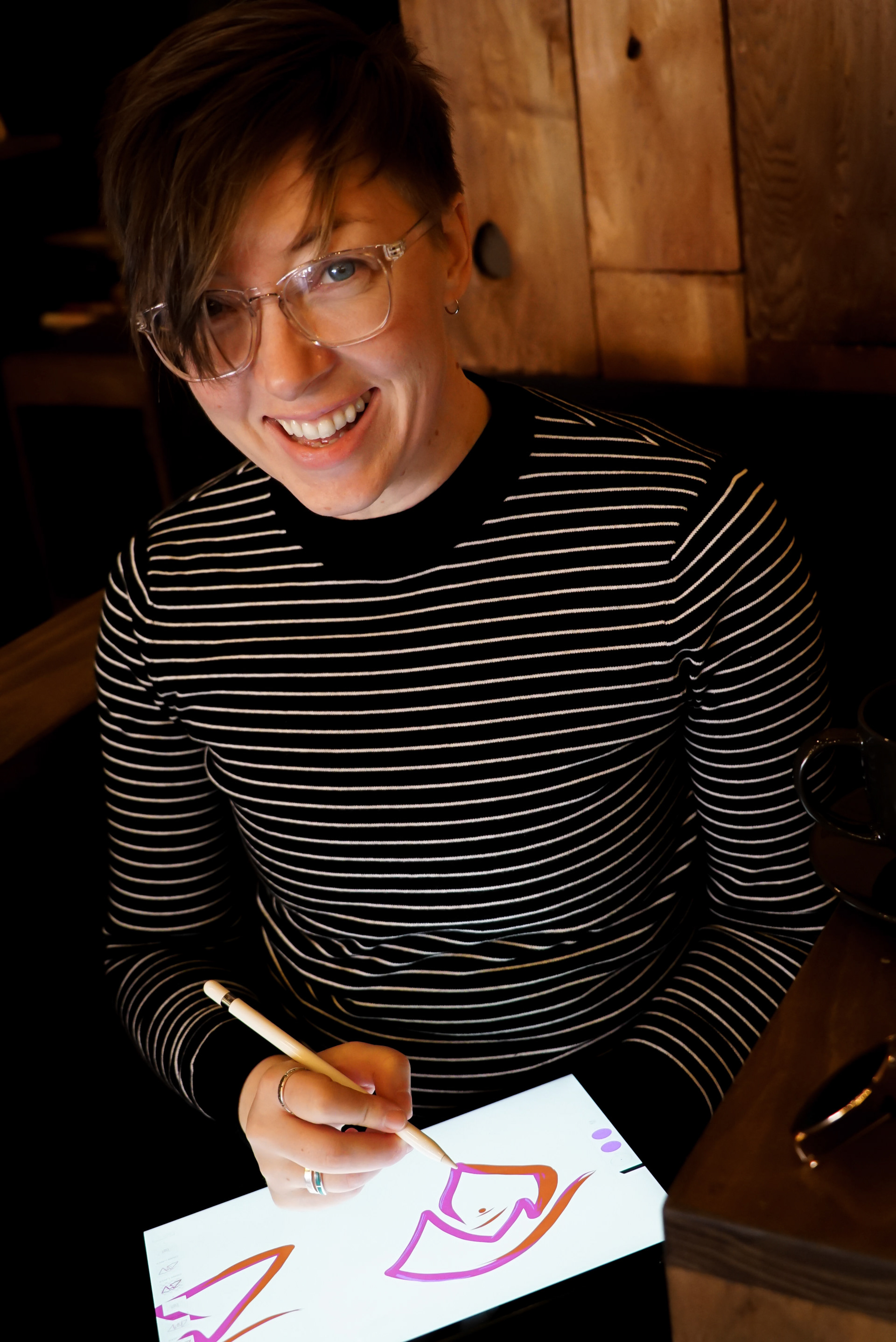 What I do
Bottom line up front:

I specialize in two things
1) Making the brand story of your project sensible, beautiful, and memorable.
2) Designing the workflow strategies and processes to get your project done.

How does this happen?

I use illustration, code, words, motion graphics, and design to tell the best story possible about your project, business, or product. The story starts with a vision (that's your part), and I develop a structure, workflow system, and the finished creative work that will bring your vision from idea to launch.
I'm a 100% remote professional freelancer.
My projects

Right now I'm producing award winning animations and digital-first content with the for-impact organization Drawn from Valor. Though my updates are paused, I'm writing feverishly on my serial fiction novel Cat Mann is PAX. Find more of my past design, story, and strategy work in the menu up top.
Your projects

I work best with impact-driven small-to-medium businesses, independent film and creative projects, and digital product launches. I have included a full list of use-cases below, if you are unsure whether we're a fit. What your project can be or do is limited only by your imagination and determination. What I can do is help you get organized and ready for launch, as well as present your idea in a way that
showcases
your
personality while resonating with your audience.
Availability

I'm currently

accepting new projects for April 2021 start dates

. You can join my wait list to get an invite.
In the wait list signup, just tell me a little about your company, project or organization.

Blank or incomplete entries will be not be considered for an invite, so just explain if you're joining in anticipation of a future project!
Email frequency:

I send out a digest to the list on what I've been up to about every 3 months. If you seem like a good fit, I'll reach out to you individually when availability opens up. I will occasionally run a promotion to my

wait list only

for specific services. It's the only place where I offer packages.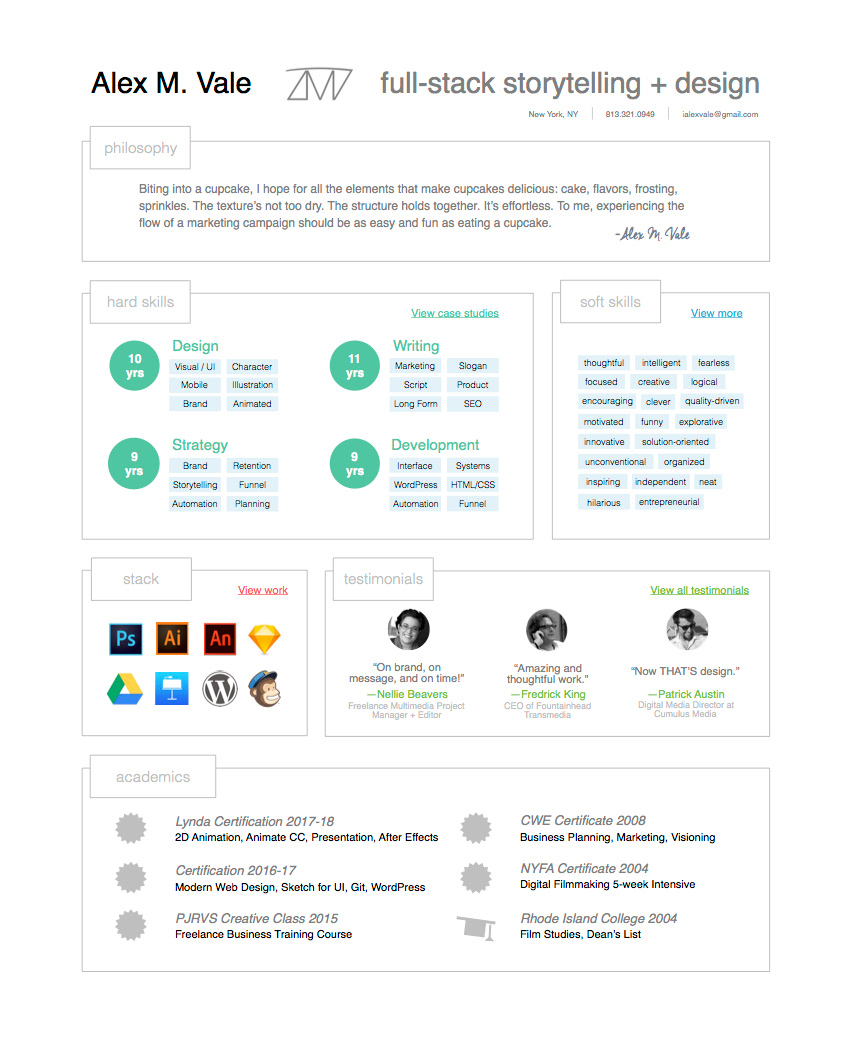 A bit about working with me

Working style:

I work 100% remotely. That means I'll be working from either a co-working space such as WeWork or from a secure location with wifi somewhere on the globe. I'm happy to join Google hangouts, Skype conversations or FaceTime chat in order to keep collaboration natural. I use other organizational technology such as Invision, Slack, Asana, Airtable, and Google Drive, etc. to stay connected and part of your creative process without missing a beat!
PANDEMIC UPDATE: My travels as a digital nomad are paused until it is safe and appropriate to travel. For you this means I am working in the New York/EST time zone. However, I'll happily accommodate projects across global time zones – it just takes some planning.
Typical projects I might take on:
– new brand launches
– product launches
– project campaigns

copywriting + design only (BYO marketer)


– social media

copywriting + design only (BYO SM manager)


– slogan-driven ad campaigns
– pitch presentations
– explainer videos
– training materials
– landing + sales pages
– funnel content
– PDF presentation design
My work is perfect for:
– agencies
– startups
– solo businesses
– entrepreneurs
– artists + makers
– indie filmmakers
– authors
– crowdfunding projects
– extending a corporate marketing team
Not your droids / no can do:
Note: These are automatic NOs, zero exceptions.
– social media campaign or account management
– on-site required
– strictly PC environment
– role requires me to manage people who report to me
– W-2 employment

I'm 1099 only


– undefined/undecided decision makers

If this is actually you, you know it


– project idea / plan / budget / materials not ready for me yet
– hourly pay projects

seriously, I bill flat rate, no exceptions


– unable to allow for a 48-hour buffer on turnaround
How much does it cost?

I do work by invitation only, so I do not publish my pricing. Custom pricing is thoughtfully considered based on the revenue, years established, and mission of your organization.
How will I be billed?

If we work together, I charge by day rate, flat rate or retainer, depending on the scope and duration of your project. All payments take place through a secure invoicing system, and are processed through ACH, Stripe or PayPal – that means I never see your billing details. The majority of projects are paid up front, but longer projects can be broken into installments. Retainer projects are billed at a set rate on an agreed schedule.
What happens once we get started?

This is where the rubber meets the road – have no fear, we'll also review this in the 15-minute consult, and you'll get materials from me to walk you through every part of the process. At the beginning of the project, after payment is received for the quote, we enter "discovery" where we will lay out our expectations goals and deliverables in both the project scope and on the calendar. Once everything is signed off and materials are received, work will begin. At the end of every week I'll provide a quick email recap detailing what's finished what's next up and what's outstanding, along with any materials or feedback needed for the following week.